The Canadian War Museum is proud to partner with Hot Docs — North America's largest documentary festival — featuring cutting-edge films from across Canada and around the world. Each screening will be followed by a moderated discussion and Q&A with a special guest, exploring the film's themes. Join us for these thought-provoking evenings of documentary film and conversation. This season will feature:
On Her Shoulders
Thursday, February 21, 7 to 9:30 p.m.
Having seen and experienced the atrocities committed against the Yazidi community in Iraq, Nadia Murad becomes the reluctant but powerful voice of her people in a crusade to get the world to finally pay attention to the genocide taking place. The 23-year-old survived repeated sexual assaults and bore witness to the ruthless murders of her loved ones. Now, her bravery to speak openly is put to the test daily as reporters, politicians and activists push for her to recount her past. As difficult as it is for her to continually revisit her trauma, she powers forward, fighting for justice and the greater good of all those who are suffering in her community. Nadia's testimonials and speeches command attention and action, showcasing the incredible courage it takes to come forward and speak up in the most difficult of circumstances.
Nadia Murad is one of two winners of the 2018 Nobel Peace Prize for her efforts to end the use of sexual violence as a weapon of war and armed conflict.
Languages: English, Kurmanji and Arabic
Partial subtitles in English
Rating: PG (parental guidance suggested)
Photo at top of page: Nadia Murad, On Her Shoulders
Special Guest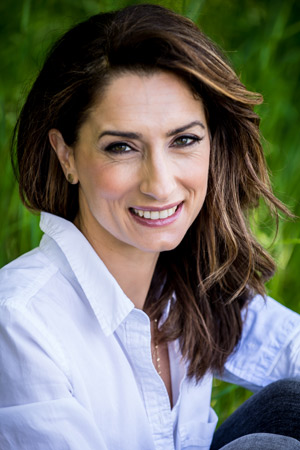 Christina Frangou is a writer and journalist from Calgary, Alberta. Her reporting has garnered multiple national awards and nominations, including a National Newspaper Award in long-feature writing for a 2016 story about her experiences as a young widow.
Her work has appeared in The Globe and Mail, Avenue, Chatelaine, Alberta Views and The HuffPost, among others. She is a graduate of Carleton University's School of Journalism, where she also majored in history. In addition, she holds a Master's degree from the London School of Economics.
In December, her story about Jihan Khudher — a Yazidi woman now living in Canada — was published in The Globe and Mail. Frangou described, for the first time, the seizure-like episodes from which Khudher and other Yazidi refugees suffer as a result of their trauma. The story sparked a national conversation about the plight of these refugees, and can be read at https://www.theglobeandmail.com/canada/article-for-a-yazidi-refugee-in-canada-the-trauma-of-isis-triggers-rare/.
See also:
The Accountant of Auschwitz – Thursday, March 21, 7 to 9:30 p.m.
Granny Project – Thursday, April 25, 7 to 9:30 p.m.
The Deminer – Thursday, May 23, 7 to 9:30 p.m.
Q&A is in English with simultaneous French translation.
Presented by the Canadian War Museum in partnership with the Hot Docs Canadian International Documentary Festival