Education and Outreach
With donor support, the Museum reaches thousands of Canadians each year through its extensive educational programs. On-site curriculum-based school programming, online resources such as the Canada and the First World War module and travelling resources like Supply Line encourage lifelong learning about our military history.
Support the Museum
As Canada's national museum of military history, the Canadian War Museum safeguards this country's military history for current and future generations, but we need your help.
We rely upon support from people like you to advance research, to acquire and preserve artifacts, to develop on-site and travelling exhibitions, and to create educational resources — all of which help make connections to personal stories and critical moments from Canada's military history.
Your donation makes military history accessible to Canadians right across the country. Most importantly, your support will help preserve a proud, collective memory of our past.
Your support can take many forms — make a one-time gift, become a monthly donor, donate in honour of a loved one, or make a gift through your estate.
Recognizing Our Donors
Kudos! Fall 2021
The triannual newsletter Kudos! celebrates our donors and supporters, and highlights the work made possible by their gifts.
---
Remembering the 75th anniversary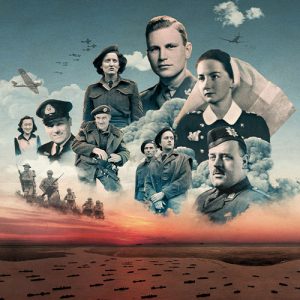 To commemorate the 75th anniversary of the end of the Second World War in 2020, the following Partners' Circle donors made a special gift in memory or in honour of a loved one.
Audrey Beaulieu, in memory of Raymond Beaulieu
Monique Bielech, in memory of Howard Clifford Cook
Paul Charbonneau, in memory of Corporal Leopold Charbonneau
Chad Cornish, in memory of the 1st Canadian Parachute Battalion
Bryce and Nicki Douglas, in memory of Bryce Grierson Douglas
Russell C. Finch, in memory of Carol Nancy Finch and David Cameron
Richard French, in memory of Major J.K. French
Jean Giguère, C.M., in honour of John Stewart, RCN, and Warrant Officer Thomas Stewart, RCAF
Donald F. Greer, in memory of Colonel George R. Greer, E.D. C.D.
Geoffrey P. Joyner, in memory of Philip Joyner, RAF
Linda Kincaid, in honour of Stan Sepchuk
Sylvie and Peter Madely, in memory of Yvon Clermont and Charles P. Madely
Brian McKay, in memory of Stanley Alexander
Virginia McLaughlin, in memory of John Weir Foote, Honorary Captain (Royal Canadian Chaplain Service), recipient of the Victoria Cross
Doreen Motz, in memory of Gunner Roy F. Ludwig
Colonel Kevin Pehr, in honour of Ben Zion Pehr
Jennifer Pereira, Q.C., and Kurt Soucy, in memory of Jose Da Silva and Roland Soucy
Royal Canadian Legion Branch 03-059, Moose Jaw, in honour of the veterans of Moose Jaw
Brad Rusaw, in memory of Ivan Whalen
Marinus Scheffer, in honour of those who served
John and Donna Schwartzburg, in memory of Hy Schwartzburg (RCAF), Harry W. Pegg (South Saskatchewan Regiment), and Robert S. Pegg (RCAF)
Dr. Errol (Ted) Semple, D.V.M., in memory of Squadron Leader Errol Q. Semple, M.B.E., C.D.
Mark Shields, in memory of three brothers, George, Thomas and Bob Shields
William Young, in honour of Sergeant (Ret'd) Peter Young, C.D., and in memory of Staff Sergeant W.H. (Bert) Young, Canadian Armoured Corps, Canadian Army, 1941–1945
Jack and Donna Lee Zaleski, in memory of Richard Cartwright Douglas
The Partners' Circle is a dedicated group of donors whose support is vital in presenting the stories of our military history. Learn more about the Partners' Circle program today.
With your support, we can ensure that Canada's military history is shared with future generations on site, online and around the country.