Units
3rd, 4th, 5th & 6th Regiments, Canadian Mounted Rifles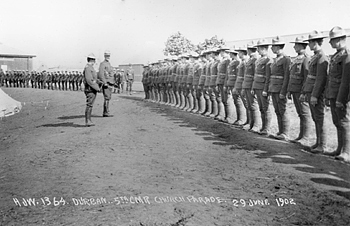 The 5th Battalion, Canadian Mounted Rifles on church parade, Durban, South Africa, 29 June 1902. This was after the signing of the Treaty of Vereeniging that ended the war, and the unit never saw action.
In April 1902, the British requested from Canada a fourth contingent of 2,000 men recruited and funded on the same basis as the 2nd Regiment, Canadian Mounted Rifles. The contingent was recruited in April 1902 and organized into four regiments of Canadian Mounted Rifles. Each regiment had 26 officers, 483 men and 539 horses, organized into a headquarters and four squadrons. The contingent therefore could field 16 squadrons, three more than the combined strengths of the second and third contingents, plus Strathcona's Horse.
Each regiment was commanded by a veteran of previous service in South Africa, and included a large number of veterans in both its commissioned and non-commissioned ranks. These units arrived in South Africa after the war had ended, however, and returned to Canada in July 1902 at which time they disbanded.