Weapons
The 12-Pounder Field Gun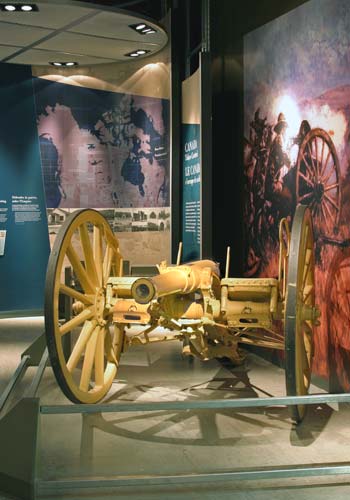 12-pounder field gun in the collection of the Canadian War Museum. This is the No. 5 Gun actually used by "D" Battery, RCFA at Leliefontein.
The 12-pounder breech-loading gun that equipped the Brigade Division, Royal Canadian Field Artillery in South Africa began to enter Canadian service in 1897. It replaced the 9-pounder rifled muzzle loading guns that had equipped Canada's field artillery units since the 1870s. The new gun was the standard equipment of the mounted troops of the British horse artillery, and was a great improvement over its predecessor. Loading by the breech was quicker and simpler than ramming ammunition into place from the muzzle, and the 12-pounder had a range of 4,500 metres, 1,500 metres better than the earlier gun. Smokeless cordite propellant, moreover, eliminated the thick haze that had previously surrounded artillery pieces in action and thereby given away their location to the enemy.
Rapid technological developments, however, had already rendered the 12-pounder obsolete by the time of the South African War. Guns of the British and Boer forces fired heavier projectiles to a still greater range. They also featured hydraulic or mechanical systems to absorb the shock of recoil. In the case of the 12-pounder, which lacked these devices, the gun had to be pushed back into position after every round, thus slowing the rate at which it could be fired.
It says much for the efficiency of the Canadian gunners that they achieved good results despite the shortcomings of their equipment.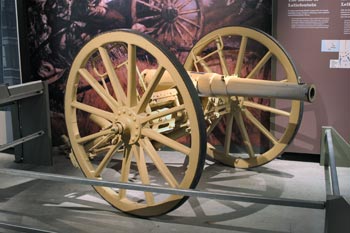 12-pounder field gun