Uniforms & Equipment
The Strathcona Boot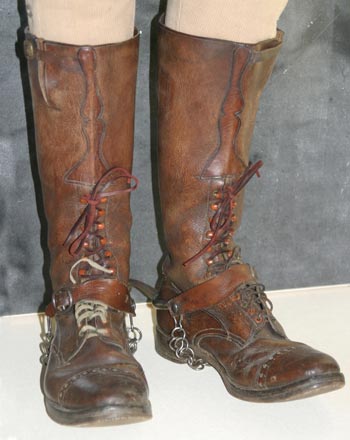 Pair of Strathcona Boots
Traditionally, the cavalry wore heavy knee-high boots that afforded protection against sword blows in battle. These boots were generally stiff and unwieldy, and not conducive to walking or marching. The conditions of service in the South African War, where mounted infantry usually fought on foot, brought this problem to a head. The British, therefore, developed a high leather boot with a sole that was intended for walking, and a laced instep that provided the wearer with greater flexibility and ease of movement. For the most part, however, these boots were worn by the officers, with the rank and file adopting the ankle-boots and puttees used by the infantry.
Strathcona's Horse developed its own variant of this type of boot for its service in South Africa. Produced by the Slater Shoe Company of Montreal, this boot had a laced instep made more flexible by the introduction of a large gusset. In addition, there was another gusset on the upper calf that was loosened or clinched by an adjustable strap to improve the fit around the leg.
Perhaps in keeping with its image as an elite unit, the Strathconas issued these boots to all members of the regiment, and not just to the officers. Although, officially, they were to be worn only for walking out and for parades, it is clear from photographic evidence that they were frequently used on active operations. Many members of the Strathconas were former members of the North-West Mounted Police, including the unit's commanding officer, Sam Steele. One of the war's lasting legacies was that the boots were taken into wear by the North-West Mounted Police, and they remain today one of the more distinctive components of the dress uniform of the Royal Canadian Mounted Police.