Canadian Personalities
Lieutenant-Colonel William D. Otter (1843-1929)
Commanding Officer, 2nd (Special Service) Battalion, Royal Canadian Regiment of Infantry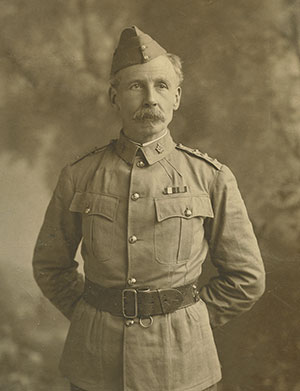 Lieutenant-Colonel William D. Otter, Commanding Officer of the 2nd (Special Service) Battalion, Royal Canadian Regiment of Infantry in South Africa, November 1899 - November 1900.
Otter was the foremost Canadian professional soldier of his day, both in terms of seniority and experience. He began his military career in the militia in Toronto in 1864. In 1866, he served at the battle of Ridgeway where Fenian Irish nationalists from the United States defeated a Canadian force. He joined the Permanent Force infantry when it was established in 1883, and in 1885 commanded the Battleford Column during the Northwest Campaign.
As commanding officer of the 2nd Battalion, Royal Canadian Regiment of Infantry in South Africa, his no nonsense, no frills approach to soldiering brought him into conflict with the less disciplined ways of his officers and men, most of whom were volunteers from the militia or from civilian life. Otter was uncompromising, his convictions having been set by his memory of young militiamen fleeing in panic at Ridgeway. He was grimly determined that Canadian troops would not again fall into confusion on the battlefield.
Otter was steady and courageous under fire. However unpopular with his men, his 'austere professionalism' got results. The 2nd Battalion, Royal Canadian Regiment of Infantry was considered by many British officers to be the best infantry battalion in South Africa.
He became the first Canadian-born officer to command this country's military, and he retired in 1910 as General Sir William Otter KCMG, CVO. During the First World War he came out of retirement to command operations for the internment of enemy nationals resident in Canada.