Weapons
The Colt Model 1895 Machine Gun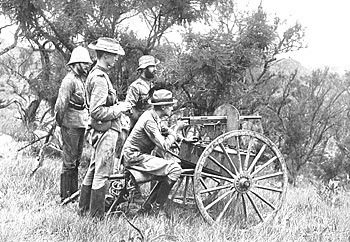 The 1895 Model Colt machine gun that the Royal Canadian Dragoons and other Canadian mounted units adopted after their arrival in South Africa. It was mounted on a carriage that could be pulled by a single horse. Here it is operated by a British team.
Developed by the celebrated American firearm designer, John Browning, this machine gun was introduced by the Colt Company of Hartford, Connecticut in 1895. Like the Maxim gun introduced four years earlier, it operated entirely by mechanical means. The tapping of a small amount of gas generated by the combustion of the propellant was diverted to a piston, which drove back the breech block and cycled the mechanisms to load, fire, and extract. Unlike the water-cooled Maxim, this gun was air-cooled. It had a lower rate of fire, but was of lighter weight and was more easily handled.
This .30-calibre machine gun quickly became a favourite of the volunteer mounted infantry units of the British Army, which found the lightweight weapon a natural compliment to their fast moving, highly mobile methods of warfare. Doubtless this was one of the factors influencing the decision of their Canadian counterparts to dispense with their Maxims in favour of Colts after their arrival in South Africa.
A particular advantage of the Colt, according to Lieutenant-Colonel François-Louis Lessard of the Royal Canadian Dragoons, was that it could be "be detached from the carriage quite easily and carried away on the saddle." Perhaps the most famous instance of this happening involved the exploits of Sergeant Edward Holland of the Royal Canadian Dragoons at Leliefontein on 7 November 1900. Following the departure of the Dragoons from South Africa, their machine gun officer, Major Arthur L. "Gat" Howard, who had overseen the transition from Maxims to Colts, stayed on to form another unit called the Canadian Scouts. It specialized in a daring, irregular warfare, and Howard equipped the unit with no less than six Colt machine guns.
The legacy of the Canadian experience with machine guns in South Africa was that the Canadian Expeditionary Force went to war in 1914 armed with the Colt machine gun. Yet, it was the next generation of the Maxim design, the heavy Vickers gun, that was to dominate the static battlefields of that war.