Weapons
The Maxim .303 Machine Gun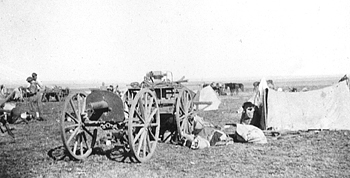 One of 2 RCRI's two Maxim guns in camp in South Africa, mounted on its Dundonald Galloping Carriage, with limber. Note the armour shield to protect the gunners.
The British Army first adopted the Maxim machine gun in 1891. Designed by the American-born inventor, Sir Hiram Maxim, it was the first machine gun to operate entirely by mechanical means. With gas generated by the propellant channelled into operating the moving mechanisms, it could fire 650 rounds a minute from a continuously fed belt of ammunition. Water circulating within a surrounding brass enclosure kept the barrel cool.
Soon thereafter, the Canadian government acquired Maxim guns from Great Britain. The North-West Mounted Police used them in the Canadian west, and two went north with the Yukon Field Force in 1898. By the time of the outbreak of the South African War in October 1899, Canadian militia authorities deemed them important enough that, in conformity with British practice, every Canadian unit was equipped with two Maxim guns.
The Canadian Maxims taken to South Africa were mounted on a lightweight "Dundonald Galloping Carriage," consisting of a steel frame and trail, large wooden wheels with steel rims, and an armoured shield to protect the gun crew. When travelling it was attached to an ammunition limber pulled by at least four horses.
Opinions of the Maxim's performance in South Africa were mixed. On the first day of Paardeberg, the 2nd (Special Service) Battalion, Royal Canadian Regiment of Infantry, was able to get only one of its Maxims across the Modder River but, according to Lieutenant-Colonel William Otter, it "did most excellent service (being in a position to keep down the fire of the enemy on our left." Later, in the fighting at Doornkop, Otter detailed a Maxim gun to protect an exposed flank, and within an hour it "was safe". On the other hand, Lieutenant-Colonel François-Louis Lessard of the Royal Canadian Dragoons probably reflected the views of the more mobile mounted rifle units when he declared the Maxim "too heavy and cumbersome." He was also critical of its tendency to jam, and of the need for the "water jacket to be filled continually with water." By the time it left South Africa, his unit had replaced its Maxims with the lighter-weight air-cooled Colt machine gun, which could be pulled by only one horse, could be brought into action close to the enemy quickly, and, declared Lessard, "never clogs."