Units
Royal Canadian Dragoons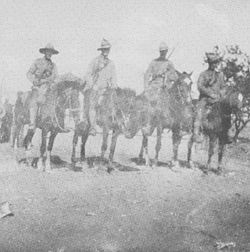 A party from the Royal Canadian Dragoons on patrol on the South African veldt, October 1900.
Canada's first contingent, consisting of the 2nd (Special Service) Battalion, Royal Canadian Regiment of Infantry, had barely sailed for South Africa when, on 2 November 1899, the Canadian government offered a second contingent consisting of horse-mounted infantry and field artillery. At first, Britain declined Canada's offer, believing there was no need for additional troops. However, London changed its mind in mid-December after a series of disastrous defeats at the hands of the Boers. In raising the new mounted unit, the Canadian government searched for men who were already experienced horsemen and good shots.
The unit was originally named the 1st Battalion, Canadian Mounted Rifles, and comprised a total of 19 officers and 371 men and their horses, organized into two squadrons. The core of each squadron was provided by experienced regular officers and men from the Royal Canadian Dragoons, the cavalry unit of the Canadian Permanent Force. For this reason, in August 1900, at the unit's own request, the 1st Canadian Mounted Rifles were renamed the Royal Canadian Dragoons. The volunteers comprising the remainder of the battalion came from cities and towns in Manitoba and the eastern provinces. Many were members of cavalry regiments of the part-time militia.
The battalion disembarked at Cape Town on 26 March 1900 and was soon on its way to the front to join the 1st Mounted Infantry Brigade. The Dragoons fought a number of engagements in the advance to Pretoria, and subsequently participated in operations on the high veldt east of that city. In one of these, at Leliefontein on 7 November 1900, a detachment from the unit, with two 12-pounder field guns of "D" Battery, Royal Canadian Field Artillery, fought off a series of mounted charges by a superior Boer force. Three Dragoons were awarded the Victoria Cross for this action.
A number of factors contributed to the success of the Royal Canadian Dragoons. First, its voyage to South Africa was delayed by a month because of sickness in the crew of the troopship. This allowed the unit to train properly before its dispatch into battle. Secondly, in addition to some very fine soldiers and a popular and spirited commanding officer, Lieutenant-Colonel François-Louis Lessard, the unit also possessed more than its share of brave and able officers who led from the front – a trait reflected in battle casualties of two killed and four wounded among the ten lieutenants. Unlike most other units, moreover, the Dragoons used their machine gun section very aggressively. The Royal Canadian Dragoons was, in fact, perhaps the most effective Canadian unit to serve in South Africa, and among the best on either side.