Weapons
The Colt .455 New Service Model Revolver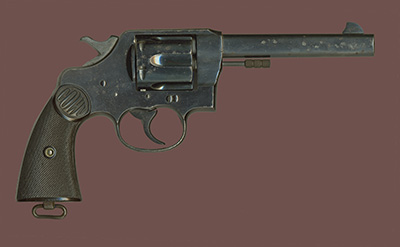 The Colt .455 New Service Revolver, first issued to the officers and men of the second Canadian contingent and used by all the contingents sent subsequently.
The officers of Canada's first contingent to South Africa, the 2nd (Special Service) Battalion, Royal Canadian Regiment of Infantry, carried the old Colt .44 Calibre Model 1878 pistol acquired at the time of the North-West Campaign in 1885.
The interval between the dispatch of the first contingent and the raising of the second gave the Department of Militia and Defence the opportunity to purchase a more modern firearm. Familiar with Colt products, the department chose Colt's .455 New Service Model introduced in 1898. It was a large pistol, which fired a heavy bullet intended to stop an enemy quickly. The weapon was carried in a Canadian-made holster, suspended from the Oliver Pattern Equipment waistbelt.
The usefulness of the pistol in South Africa was debatable. Lieutenant-Colonel François-Louis Lessard of the Royal Canadian Dragoons felt that it was an unnecessary weight for the overburdened mounted infantryman, and had them returned to stores. Lieutenant-Colonel T.D.B. Evans of the Canadian Mounted Rifles, on the other hand, considered it a most useful weapon for mounted troops, particularly when scouting and searching houses for prisoners. Whatever the opinion of the pistol's utility in South Africa, the weapon remained in the Canadian military inventory and was employed during the First World War.