Canadian Personalities
Lieutenant-Colonel François-Louis Lessard (1860-1927)
Commanding Officer, Royal Canadian Dragoons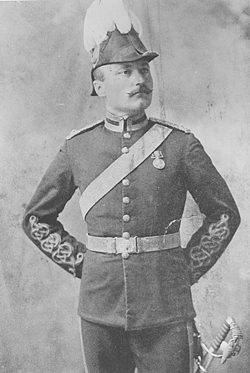 Lieutenant-Colonel F-L Lessard, Commanding Officer, Royal Canadian Dragoons in South Africa, March — December 1900.
Lessard served in the militia in Quebec City before joining the newly formed Permanent Force cavalry in 1884. He served during the Northwest Campaign of 1885, although his unit did not see combat. He initially went to South Africa as one of the Canadian officers who were attached to the British Army to learn about the latest developments in warfare. He rode with British General Sir John French's cavalry division in the advance that relieved the besieged city of Kimberley in February 1900. In the meantime the Canadian government appointed him to command the 1st Battalion, Canadian Mounted Rifles, which arrived in South Africa in March 1900. Lessard succeeded in having the unit redesignated the Royal Canadian Dragoons.
Under Lessard's leadership the unit achieved an outstanding record in the march from Bloemfontein to Pretoria and during the opening months of the guerrilla phase of the war. A 'very popular and efficient' commanding officer, and an aggressive leader in combat, he was also fortunate to be able to count on officers and men of the highest standard. The Royal Canadian Dragoons was perhaps the most effective unit to serve in South Africa.
Promoted major-general in 1912, Lessard played an important part in organizing the Canadian forces during the First World War, but did not serve overseas.