Canadian Personalities
Lieutenant-Colonel Samuel B. Steele (1849-1919)
Commanding Officer, Strathcona's Horse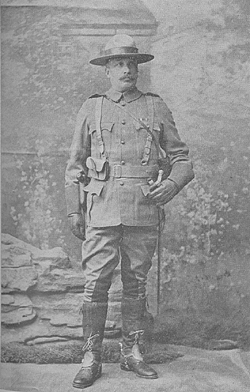 Lieutenant-Colonel Sam Steele, Commanding Officer of Strathcona's Horse in South Africa, April 1900 — January 1901, and of "B" Division, South African Constabulary, April 1901 — April 1906. Here he wears the uniform of Strathcona's Horse.
Sam Steele had a long and storied military career. He joined the militia in 1866 during the Fenian Raids and also participated in the Red River Expedition in 1870. The following year he joined the Permanent Force artillery, Canada's first regular army unit. Steele, an outstanding horseman, joined the North-West Mounted Police when that force came into existence in 1873. His career with the police, including command of Steele's Scouts in the Northwest Campaign of 1885, reads like a history of the opening of the Canadian west. At the start of the South African War, he had just finished commanding the North-West Mounted Police contingent that kept peace in the Yukon during the gold rush of 1898-1899. The commissioner of the North-West Mounted Police recommended him as "the best man in Canada" to lead a unit in South Africa.
Steele took command of Strathcona's Horse, the mounted infantry unit raised and paid for by Lord Strathcona and Mount Royal, Canada's High Commissioner in Great Britain. Strathcona's Horse saw plenty of action and the unit's effectiveness in the often brutal guerrilla phase of the war won the favourable attention of the British high command. After taking the unit back to Canada early in 1901, Steele returned to South Africa that same year to command a division of the South African Constabulary, a position he held until 1906. During the First World War, Steele was too old for front-line service, but commanded Canadian formations in England.
Steele was a charismatic, opinionated, hard-living individual who personified the popular image in the Victorian era of the rugged, larger-than-life frontiersman, with all his virtues and vices.